The people with overall responsibility
Governance and Management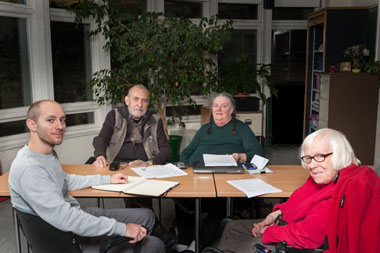 ECIL has a Board of Trustees, consisting of no more than twelve trustees. We also have observer membership, which allows people to attend the Board for a year, to find out whether it is something they want to do.
In this capacity, they have no voting rights. The Board meets quarterly. Under the constitution, Full Members of ECIL must be disabled people.
There is an Associate Member category for our able bodied supporters.
Wendy Starkie - Chair
Wendy Starkie is the Chair of ECIL and was elected on 19th November '15. Wendy became disabled following a car accident and is a wheelchair user. She has been involved with our organisation from its inception. She brings a wealth of experience and expertise, both as a disabled member of ECIL and as a carer. She leads on Small Fundraising projects.
Sally O'Connor - Vice Chair
Sally O'Connor is the Vice Chair of ECIL. She became disabled as a result of MS, is a wheelchair user and also has a visual impairment. Her particular campaigning interest is in transport.
James Prickett - Treasurer
James Prickett is the Treasurer of ECIL. He is a qualified accountant and is known for his committed support to the Disability Voluntary Sector.
Board of Trustees members
Yuusuf Guuled - has set up HADEA (Horn of Africa Disability and Elderly Association) based in Acton, which supports disabled people from Somalia and other African countries.
John McNeill - joined our Board in October '15, bringing a strong level of experience of Board of Trustees work.
Joe Kelly - joined our Board in June '16, bringing a wealth of knowledge regarding mental health issues.
Josh Denny - joined our Board in June '16. Josh is one of our younger Board members, who has worked for TfL and has other campaigning ideas.
Lynn Armstrong - joined our Board in November '16. Lynn has a very strong background in Health and Safety, Risk Management and training.
Observers
There are currently no Observers.