Training
Disability Awareness and BSL Training at Ealing Centre for Independent Living
Disability Awareness and BSL Training at Ealing Centre for Independent Living
Even with the best will in the world, we appreciate that it can be difficult to know where to begin when thinking about making your services and working environment more inclusive for deaf and disabled people. ECIL offers a range of training packages to support business, organisations, charities and individuals to make a start.
For more information or to enquire about booking, please email us at ecil@ecil.org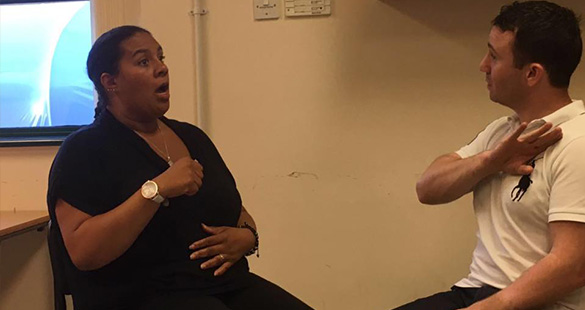 Deaf and Disability Awareness Training
Our training will help you to understand the barriers that exist in everyday life for deaf and disabled people. We will support you to develop the knowledge, understanding and confidence to break down these barriers and engage with deaf and disabled people, in order to improve service design, access and communication.
This training is ideally suited to teams and we are vey happy to work with you to design a package that meets your needs. We can offer anything from a one-hour lunch time awareness session, through to half-day training or a full-day workshop. Contact us to find out more.
Learn British Sign Language (BSL) at ECIL
British Sign Language, or BSL as it is known for short, is the language of the UK's Deaf population. The British Deaf Association estimates that BSL is the first or preferred language of 151,000 people across the UK. In the London Borough of Ealing there are over 24,000 deaf people, many of whom will rely on BSL.
The chances are, that at some point you will come across a BSL user at work, in your community, or maybe within your own family. Learning BSL could help you to communicate with them.
At ECIL, we are introducing BSL training to help you get started and continue on your learning journey. Whether you want a basic introduction or support completing your Level 6 portfolio, we have something for you. We can provide 1-1 sessions and group classes at our Bayham Road, W13 offices. We also offer group class training on client sites, which can be tailored to meet your needs.
We offer programmes to help you learn for fun, without exams or assessment, or formal qualifications accredited by the Institute of British Sign Language (iBSL), the only Deaf-lead awarding body in the UK.
For some courses we work in partnership with local BSL training centre Deaf Positives Action. Others are led by our Chief Executive, Alan Murray, who is a qualified Teacher, assessor and Verifier with 30 years experience. He is also an assessor and internal and external Verifier for the BLS programme.
1. BSL Foundation Course
This course is the perfect introduction to British Sign language. Come along to learn the basics, have some fun and whet your appetite for our accredited training programmes, without the pressure of exams.
By the end of the course, you will have gained some new skills and confidence in the use of BSL, to help you take the first step towards Level 1.
Course format:
1 or 2 hours a week, for 5 or 10 weeks, to suit the group.

Entry requirements:
none – just an interest in learning this beautiful language! This course is suitable for everyone.

Course cost:
For example for a 2 hours a week - £75 per person for 5 weeks or £150 per person for 10 weeks.

Location:
Either at ECIL's office at Bayham Road or on client sites.

Progression:
Students can move on to the Level 1 BSL course.
2. Level 1 Award in British Sign Language Studies
This course will give you the BSL knowledge and skills needed to hold a simple communication with Deaf family, friends or colleagues on everyday topics, using everyday language.
By the end of the course, you will be able to understand simple information presented to you in BSL, describe matters related to your work or family life in BSL and engage in a simple conversation with deaf people in BSL, in a social, work or learning environment.
Course format:
We can offer a range of options from 2 hours per week to intensive packages.

Entry requirements:
none – just an interest in learning this beautiful language! This course is suitable for everyone and no prior learning is necessary. Although you may benefit from attending the Foundation course first.

Course cost:
£450 including Assessment Fees (60 learning hours plus assessment). A Payment Plan is available to help spread the cost.

Location:
Either at ECIL's office at Bayham Road or on client sites.

Progression:
Students who achieve Level 1 can move on to Level 2 BSL.
3. Support for NVQ Level 6 BSL Portfolio Development
If you are working towards your Level 6 NVQ Certificate in British Sign Language and need some assistance developing your portfolio, we can support you with:
1-1 coaching to explain and discuss the Assessment Criteria and process;

1-1 coaching to help you improve your BSL productive and receptive skills;

evidence collection opportunities.
Course format:
flexible arrangements to suit your availability

Course cost:
coaching is available in 1-hour slots, at a cost of £35 per hour

Location:
1 Bayham Road, West Ealing, London, W13 0TQ or a mutually convenient meeting place

Tutor:
Alan Murray
How to Apply
Please email ecil@ecil.org to enquire or apply for a place on any of our training courses discuss your requirements arrange a training course at your place of work provide you with a quote.